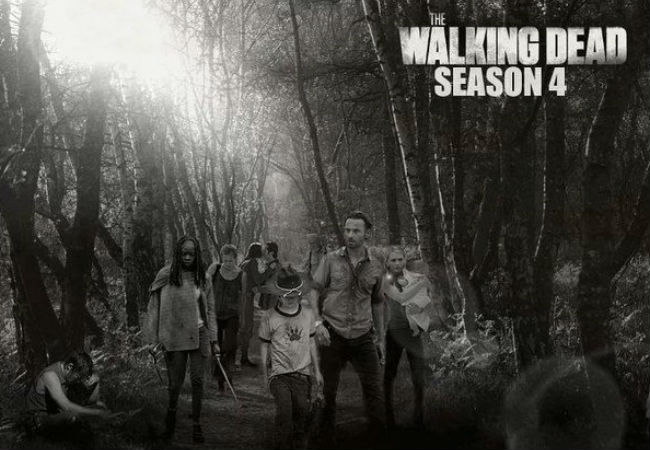 It if wasn't clear already, what with homicidal Messiah-complex leaders like The Governor (David Morrissey), packs of amoral flesh-craving walkers, and destructive internal power plays, the world of Robert Kirkman's The Walking Dead is a dangerous place to be.
And if this trailer, released at Comic-Con on July 19 during the show's panel fronted by new showrunner (and long standing show writer) Scott M. Gimple) and show creator Robert Kirkman (who continues to create the comic books on which the show is somewhat based), along with key members of the cast, is any guide, it's about to get a whole lot more dangerous.
As Hershel Green (Scott Wilson) makes clear, everything you do in this living-unfriendly post-apocalyptic world comes with ever-present, unceasingly malevolent risk:
"If you step outside … you risk your life.
If you take a drink of water … you risk your life.
You don't have a choice.
The only thing you can choose is what you're risking it for."
Season 4 looks to underline in an even more emphatic way the safeties and certainties of life pre-apocalypse have disappeared under the murderous tidal wave of the undead, an unrelenting assault that shows no sign of slowing down, and is in fact gathering speed, forcing the ever-diminishing group of survivors, now with added Woodbury refugees, to completely re-evaluate their lives in this increasingly more dangerous world as Robert Kirkman explained (source: tvrage.com):
"There's going to be a bit of a time jump," Kirkman explains. "It's only a few months, we're not nailing down the exact number of days or anything like that. The prison that we see is a very different prison and the characters that we see are very different from the last time we saw them. We go into season four with characters you've known for four years and still find new things to explore with them and new aspects of their character and see that they are growing and changing in extremely dramatic ways due to the strains that this world has put upon them."
It will also force Rick Grimes (Andrew Lincoln) to take a step back from the leadership role he has exercised up to this point- the role looks likely to fall to newly engaged power couple Maggie Greene (Lauren Cohan) Glenn Rhee (Steven Yeun) in concert with feisty and he has played up to this point and concentrate on being a parent to budding-psychopath Carl (Chandler Riggs)
Said Lincoln at the Comic-Con panel:
"The relationship with Carl is integral to the beginning of the season from Rick. [Carl] turning into a sociopath at the end of the season woke him up to his parenting duties. You find Rick in a completely different place this season.

"The death of Andrea (Laurie Holden), combined with what happened with Carl was the catalyst to bring him to that point. The brutality of pushing people away in season three wasn't working for him and was cataclysmic for his family." (source: hollywoodreporter.com)
According to David Morrissey, the Governor is as much a threat as ever, even without his sprawling coterie of Woodbury survivors – "He feels as if they betrayed them," noted Woodbury during the panel according to hollywoodreporter.com. "He went off with two of them – he didn't kill them all." – and he will continue to be a thorn in the flesh for the group, along with all the many other internal and external threats.
Gimple, who was a fan of the comic books long before scoring a writing gig with the show in its second season, and who is set to introduce increased elements of the comic books into the show (with Kirkman's permission, of course) made clear in a quote cited by blastr.com:
"They might get a little comfortable, but then things might get a little dangerous."
Or a lot.
I am going for a lot, and frankly we wouldn't want it any other way for our plucky band of survivors would we?
The Walking Dead returns on Sunday 13 October on AMC for its first block of 8 episodes (the second 8 premiere in February 2014) and will hit Australian screens less than 48 hours later on their FX channel.