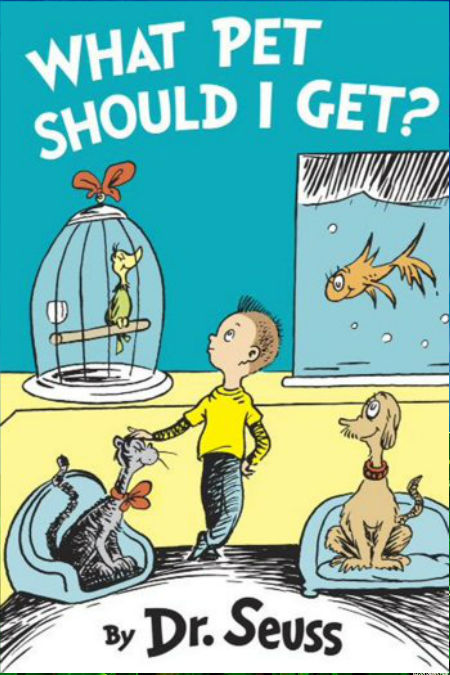 This has surely got to rank as one of the best news stories of the year.
24 years after his death in 1991, Theodore Seuss Geisel, better known as Dr. Seuss, has not one but three new books ready to be published, discovered, according to The Hollywood Reporter, in 2013 when "Seuss' widow, Audrey Geisel, and his secretary were looking through boxes in his office in advance of a home remodeling project."
What a thing to find!
You can only imagine the inestimable joy to find out, years after the loss of the man you loved that he had three never before seen books hidden away for you, and of course, the world to enjoy.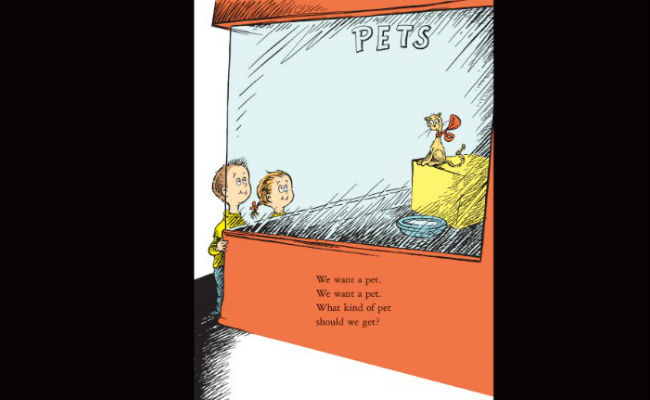 What Pet Do I Get? is the first book off the presses, publishing July 28 in the USA, and it features the same brother and sister made famous in the beloved Seuss classic One Fish Two Fish Red Fish Blue Fish (1960) who find themselves in a pet store wondering which animal they should take home with them.
With advance orders of 500,000 to 1 million, it won't be long before the book gets a second printing, and Dr. Seuss adds to the already 650 million books he has sold, which includes titles such as Green Eggs and Ham (1960), The Lorax (1971) and Oh, the Places You'll Go! (1990).
I'm so excited I want to burst into rhyme but I think that I leave that to the master of the art, one Dr. Seuss and content myself to jumping up and down with Yurtle the Turle-esque excitement till I can get my hands on a copy of the book.
You can listen to Rainn Wilson read a very short excerpt from the book (below) and read more about this most marvellous of discoveries at TIME and The Hollywood Reporter and CNN …