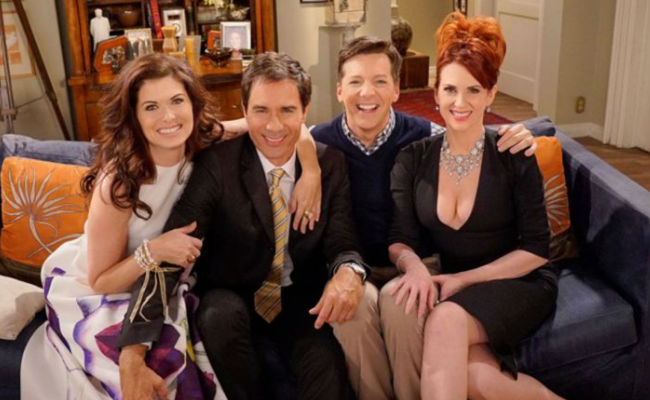 In news that thrilled the hearts of almost everyone – TIME Magazine was NOT a fan let's be honest – the cast of Will and Grace (1998-2006) reunited for an all-too-brief 10 minute episode all about the 2016 U.S. Presidential election.
Centred on Will (Eric McCormack), Grace (Debra Messing), Jack (Sean Hayes) and Karen (Megan Mullally) gathering in the old apartment to discuss the relative merits of Trump and Clinton, with their signature flow and quips still very much intact, Vote Honey was a very funny way of encouraging people to get out and vote and make a difference in November.
The build-up to this most unexpected of revivals, which has generated hopeful talk of a possible return of the TV sitcom which did so much to advance the visibility of gay characters on the small screen, kicked off last Sunday with a series of tweets from each member of the cast, teasing their get-together.
And as Variety noted, they did a fine job of building anticipation.
"The chatter grew on Sunday after each cast member posted a photo of themselves appearing to be in character on the set of the former NBC sitcom. McCormack appeared to be holding a script in his hand in his photo, while Mullally's picture included the caption, "I remember this place." Messing's photo, posted on Sunday, teased, "I feel like something BIG is going to happen tomorrow."
I used to be able to do this without glasses… pic.twitter.com/l9ctYCZqH6

— Eric McCormack (@EricMcCormack) September 26, 2016

All this anticipatory tweeting was followed on Monday by a teaser video.
— Eric McCormack (@EricMcCormack) September 26, 2016
While the very funny 10 minute "skit", as Messing referred to it, wore its colours plainly with The Guardian noting that the pro-Hilary Clinton "surprise episode preaches to the choir", it was wonderful seeing all four characters back in the same room quipping as effortlessly and hilariously as they always did.
NBC, who made and broadcast the series, created by David Kohan and Max Mutchnick, said they had no plans for a revival at this point but when has that ever stopped the wishing and a-hoping of fans, and in this case, cast members, with Messing put her in her two cents worth for a "naughty revival" on cable.
Here's hoping! Netflix are you listening? Knock! Knock! Anyone homo?