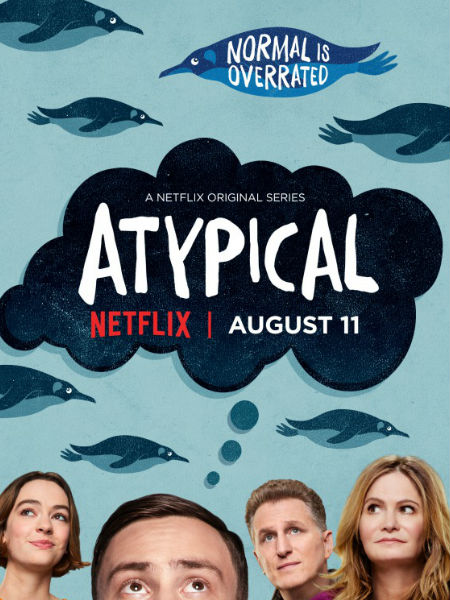 SNAPSHOT
Atypical is a coming of age story from the point-of-view of Sam (played by Keir Gilchrist), an 18-year-old on the autistic spectrum searching for love and independence. While Sam is on his funny and emotional journey of self-discovery, the rest of his family must grapple with change in their own lives while exploring the question: what does it really mean to be "normal"? Jennifer Jason Leigh stars as Sam's mother, Elsa, who is on a life-changing path as her son gains more independence. Michael Rapaport plays Sam's father, Doug, who desires to better connect with and understand his son. Brigette Lundy-Paine plays Sam's scrappy sister, Casey, and Amy Okuda plays his therapist, Julia. (synopsis via Coming Soon)
Even though we are now well on our way into the 21st century, society still poses a premium on "fitting in".
Sure diversity is in vogue, and justifiably so since humanity is more than the hitherto-accepted one-size-fits-all approach of years past, but affirming something as whorthwile is one thing, living it out quite another, and as Sam, a young man on the autism spectrum, knows all too well, high schoolers seem to be way behind the progressive curve.
Cue a comedy series called Atypical which mines this great yawning divide between good intentions and imperfectly-realised reality to impressive comic effect.
This is life in the trenches of the day-to-day where what we want and what we end up with don't always meet very neatly, or in the case of Sam's romantic life, not at all.
Even his loving family don't always get it right, but at least they're trying. (Very trying in fact; and yes, that is this post's token "dad joke", thank you and goodnight.)
The central message is, and honestly we could all benefit from hearing this, "no one is normal" but knowing that, and living it out, looks like it'll be Sam's great challenge, and deeply enjoyable fodder for the 8 x 1/2 episodes of the first season.
Atypical premieres on Netflix on 11 August.