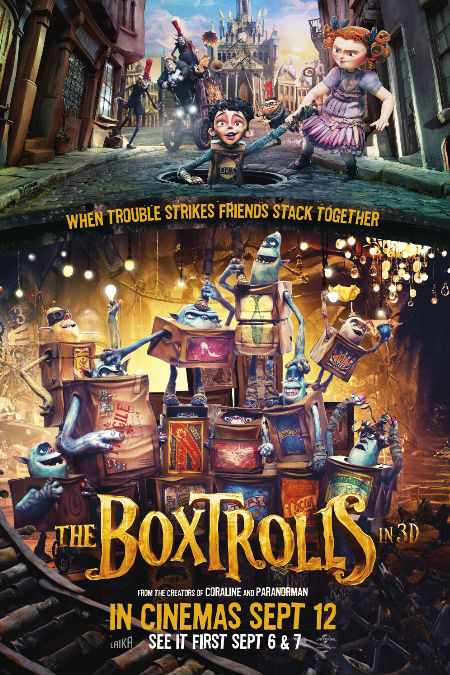 SNAPSHOT
The Boxtrolls are monsters who live below the streets of Cheesebridge, who crawl out of the sewers at night to steal what the townspeople hold most dear: their children and their cheeses. Or so the townspeople have always believed. In truth, the Boxtrolls are a community of lovable oddballs who are raising an abandoned and orphaned human boy named Eggs as one of their own. When the Boxtrolls are targeted by a villainous exterminator who is bent on eradicating them, Eggs must venture aboveground and team with an adventurous young girl to save them. Graham Annable (story artist on ParaNorman) and Anthony Stacchi (co-director of Open Season) directs the film which Focus Features releases on September 26th this fall. (synopsis via First Showing)
It must be abundantly clear by now – see here, here and here – that I am in love with the upcoming stop motion animation movie from Laika, The Boxtrolls.
And yes, that's before it has even hit theatres.
But you only to have to watch the various trailers, and check out the gorgeous detail in the newly-released poster (above) to see why it has captured not just my wholehearted devotion but that of anyone who appreciate intelligent, heartfelt, beautifully-rendered animation.
Based on the novel Here Be Monsters!: An adventure involving magic, trolls, and other creatures by Alan Snow, and produced by Laika, the stop-motion company who brought us the delights of Coraline (2009) and Paranorman (2012), The Boxtrolls is a charming tale of love, acceptance, a reminder that we should never judge those whose lives don't subscribe to our own world views but rather that we should invest the time and effort in getting to them.
It very much reflects Laika's storytelling modus operandi, that each story must have substance and a message, as CEO and lead animator Travis Knight made clear to Jonathan H. Liu aka Geek Dad, when he visited the set:
"Travis Knight remarked that LAIKA doesn't have a formula or a house style, but there are strands of DNA that connect them. They want their films to have substance, something that you can learn and take with you: "bold, distinctive stories that have something to say." Each movie has a message at its core—The Boxtrolls asks the question, "What makes a family?" Knight said that they don't want to water a film down so that it appeals to everyone because then it doesn't say anything."
And that I think is where the real appeal of The Boxtrolls lies.
It not only looks sublimely wonderful, it has a message, an inner sense of what it wants to say, a combination of style and substance that is unusual in moviemaking these days where the look of something can often trump worthwhile narrative or compelling insight.
It's why I will be sitting front and centre when The Boxtrolls opens in Australia on 18 September this year (followed by USA on 26 September) since it is important that movies this unique and substantial be celebrated, championed and above all watched and watched often.