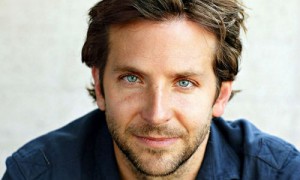 * This post originally appeared on writringbar.com *
The Words, a new movie which opened in theatres Australia-wide on October 11 starring Bradley Cooper and Jeremy Irons, is the latest in a long line of movies that feature writers, real or imagined, as the main characters, or have writing as a central theme.
While writing as an art form is essentially uncinematic, as Jurgen Fauth and Marcy Dermansky point in their article Top Ten Movies About Writers, leading Hollywood to portray writers as "perennially blocked, broke, and insane, [while they are] simultaneously romanticized and ridiculed for their excesses", many movies do make an attempt to say something profound.
A case in point is The Words, which features a debonair Bradley Cooper as a writer, Rory Jansen, who is the central character in a book written by Clayton Hammond (Dennis Quaid).
The book tells the story of Rory's struggles to get published, his novel being repeatedly rejected by publishers in a process all too familiar to many writers. When he finds a beautifully written manuscript in an antique suitcase given to him as a present by his wife, the temptation to pass it off as his own work is too great and he uses it to finally land that longed-for publishing deal.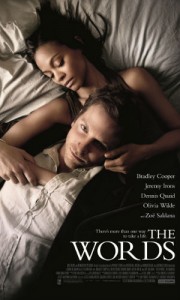 The price of success
Of course, while the book is a raging success, he finds himself increasingly tormented by his deception, an anguish which is amplified when the actual author of the manuscript, an old man played by Jeremy Irons, locates him. While Irons' character is understandably aggrieved, he is mainly concerned with telling Rory the real story behind the book and eventually Rory finds some peace re-telling the true story of the manuscript in his second book.
The Words is essentially a story within a story.
It also tells the story of Rory's creator, author Clayton Hammond, a flawed (and potentially adulterous) man who has a gift for writing, and bringing his words to life at public gatherings such as the reading that opens the movie. As Marshall Fine notes in his review of the movie, "Quaid … embodies the idea that great art is not necessarily produced by great human beings".
While we will grant you that very few writers are presented with the sort of ethical quandary that Clayton bequeathes to Rory, the movie poses an excellent series of moral "what ifs" set in the world of writing and publishing.
It is, at heart, a beautifully constructed movie that seeks to say something worthwhile.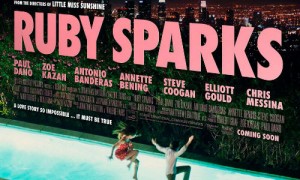 The spark of creativity
Another movie centred on a writer, Ruby Sparks, which is currently showing in Australian cinemas, also tries to say something extraordinary and again with a strong moral argument at the heart of its storytelling.
In a story that mixes equal doses of reality and fantasy, bestselling author of a book now widely regarded as an American class-in-the making, introverted Calvin Weir-Fields (Paul Dano) is struggling to escape a devastating case of writer's block.
Looking for a solution to his creative barrenness, brought on by writing a momentously successfully book at just 19 (with the attendant fear that he can never repeat its success) he seizes on a suggestion by his therapist that he tell a story about a person who likes his contact-averse dog.
After a vivid dream in which he imagines meeting the titular Ruby (Zoe Kazan), he awakens, begins writing and doesn't stop till he has a sizeable manuscript occupying the desk next to his typewriter. (Yes he is an old fashioned boy at heart.)
Dreams come alive
And then something remarkable happens.
Ruby leaps off the page, so to speak, and Calvin finds her making breakfast one day in his kitchen as real as anyone else in his life. Of course he is convinced he is going mad but it turns out everyone else can see her too. He eventually accepts that she is now real and starved of real intimacy, Calvin quickly falls into a relationship with his dream girl. Everything goes well until Zoe starts to grow beyond the person that Calvin wrote and increasingly becomes a woman of her own making.
It's at this point that Calvin succumbs to the temptation to act as some kind of cruel puppet master and starts manipulating Zoe to act as he wants her to. He feels he has every right to as her creator until it becomes apparent he is simply being cruel and pleasing no one, least of all himself. So he sets his creation free, writes a book about the remarkable Ruby (trashing the first one that brought her to life) which becomes the elusive second bestseller he hoped was inside him.
It's a warm, engaging and at times deeply unsettling movie but it perfectly articulates what the power to utterly control another could do to a person.
In the process it brings to life the sense that many writers do feel as if their characters are real, for better or worse.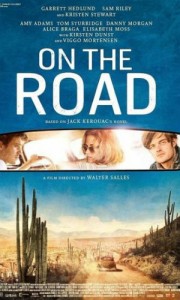 A long list
But these two fine films, which admittedly don't feature real writers but beautiful illustrate what it means to write and create, are fine companions to an illustrious list of movies that have featured real flesh-and-blood writers.
Here's a number of movies we think merit inclusion on a list of movies that have told the writer in question's story well. (This is by no means intended as an exhaustive list and yes we have tossed in a few movies with fictional writers just for fun.)
On the Road (2012) starring Sam Riley and based on the novel of the same name by famous Beat writer, Jack Kerouac.
Hemingway and Fuentes (2010) starring Anthony Hopkins about writer Ernest Hemingway's friendship with boat captain Gregorio Fuentes, who inspires "The Old Man and the Sea."
Balibo (2009) starring Anthony Lapaglia as Australian journalist Roger East who was executed by Indonesian soldiers during the invasion of East Timor in 1975.
Bright Star (2009) starring Abbie Cornish about poet John Keats's three year romance with Fanny Brawne.
Me and Orson Welles (2008) starring Zac Efron about Orson Welles's relationship with a young teenager who is cast in one of his plays.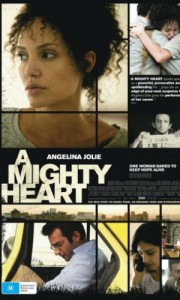 A Mighty Heart (2007) starring Angelina Jolie about journalist Daniel Pearl, who goes missing in Pakistan after he is due to meet an Islamic fundamentalist cleric.
Becoming Jane (2007) starring Anne Hathaway as a young Jane Austen and her romance with Irishman Tom Lefroy. The movie appears to exaggerate and take creative licence with a relationship that may not have been as serious in reality as it was depicted on film.
Becoming Jane (2007) starring Anne Hathaway as a young Jane Austen and her romance with Irishman Tom Lefroy. The movie appears to exaggerate and take creative licence with a relationship that may not have been as serious in reality as it was depicted on film.
Freedom Writers (2007) starring Hilary Swank as teacher Erin Gruwell who wrote the book The Freedom Writers Diary about teaching young adults at risk and how she encourages them to write their diaries in book form.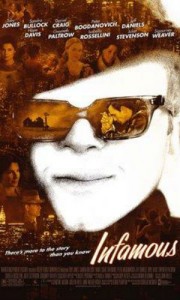 Infamous (2006) starring Toby Jones as Truman Capote, again about Capote's relationship with the murderers he wrote about in his book In Cold Blood.
Miss Potter (2006) starring Renee Zellweger about children's author and illustrator Beatrix Potter.
Capote (2005) starring Philip Seymour Hoffman depicts Truman Capote's research of his book In Cold Blood, about the murder of a Kansas family.
Finding Neverland (2004) starring Johnny Depp about J.M. Barrie, author of Peter Pan and his relationship with the family that inspired the book.
Sylvia (2003) starring Gwyneth Paltrow about poet Sylvia Plath, quite a depressing tale.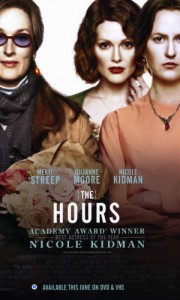 The Hours (2002) starring Nicole Kidman as English writer and essayist Virginia Woolf.
Adaptation (2002) starring Nicolas Cage as both Charlie and Donald Kaufman about Charlie's struggle in adapting Susan Orlean's book The Orchid Thief to the screen. I'm still a bit confused as to which bits are fictional and which are not.
Iris (2001) starring Dame Judy Dench about novelist Iris Murdoch and her lifelong romance with her husband John Bayley. It also depicts her battle with Alzheimer's disease.
Wilde (1997) starring Stephen Fry as English playwright and poet Oscar Wilde.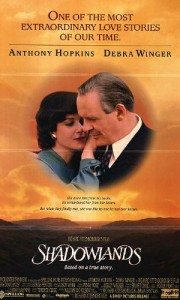 Shadowlands (1995) starring Joss Ackland about Irish-born British author CS Lewis and his relationship with American poet and writer Joy Gresham.
Il Postino (1994) about the Chilean poet Pablo Nerada is about his friendship with the postman who delivers mail to him on he island on which he is exiled.
Henry & June (1990) starring Uma Thurman in this story about author Anais Nin's relationship with novelist and painter Henry Miller and his wife June.
An Angel at My Table (1990) starring Kerry Fox as New Zealand author Janet Frame, who was institutionalised for seven years and due to be lobotomised just days after her her first volume of stories were published. Fortunately, a nurse challenged the operation and the lobotomy was not performed.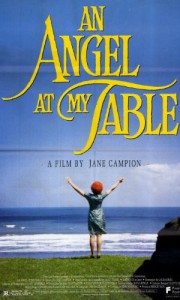 The Secret Life of Ian Fleming (1990) starring Jason Connery about the author and creator of the successful James Bond books.
My Left Foot (1989) starring Daniel Day-Lewis which tells the story of Irish writer Christy Brown who had cerebral palsy and could only move his left foot.
The Singing Detective (1986) starring Michael Gambon as Phillip E. Marlow, a mystery writer struggling with writer's block who is hospitalised with a chronic skin and joint disease.
Author! Author! (1982) starring Al Pacino as Armenian-American Broadway writer, Ivan Travalian and depicts his struggle to complete an original play, English With Tears.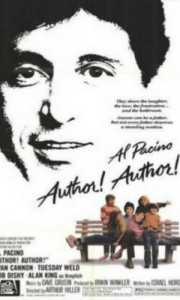 The Front (1976) starring Woody Allen as a writer who acts as a front for blacklisted writers during the McCarthy-era in the 1950s.
All the President's Men (1976) starring Robert Redford and Dustin Hoffman as Woodward and Bernstein, about their role in the Watergate scandal.
What have I missed? What other movies about writers should be on our list?