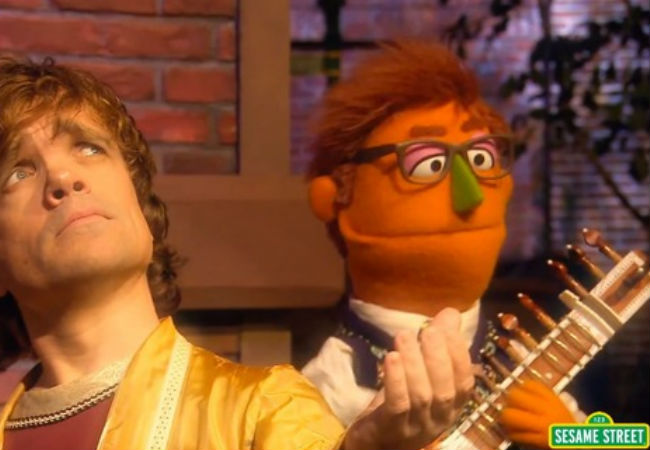 Sesame Street never disappoints.
Not only does it manage to teach kids their ABCs and 123s, as well as important social skills, it does in a imaginative ways that are always up the minute relevant.
Take the appearance of Peter Dinklage who plays wine and women-loving Tyrion Lannister on Games of Thrones, a show where obeying the leader, whoever they might be at a given time is vital if you're not to lose your head (and by extension your chance to become the leader one day, usually in a bloody and violent fashion).
In the case of Sesame Street where Peter joins in song with Harry and Elmo and other puppets, any discussion of the merits of following the leader is left to a rather jaunty folk-oriented song to resolve.
It asks the all important question – why must be always do what Simon Says? Why indeed?
Who gave this mysterious person all that unfettered power?
On Game of Thrones of course, Tyrion, his ambitious sister the queen Regent Cersei (Lena Headey), brother Jamie (Nikolaj Coster-Waldau) and father Tywin (Charles Dance) would not have bothered with anything as low key as a song, preferring cunning power plays, bold military moves, and cutting their enemies off at the knees.
Given that wouldn't quite work on Sesame Street, sorting it with music and words instead goes down a treat.
Peter Dinklage is the latest in a long of wonderful guest stars on Sesame Street that includes the latest Superman Henry Cavill, Dinklage's cast mate and on screen sister Lena Headey, Andy Samberg (Brooklyn Nine-Nine) and John Cho (Sleepy Hollow).