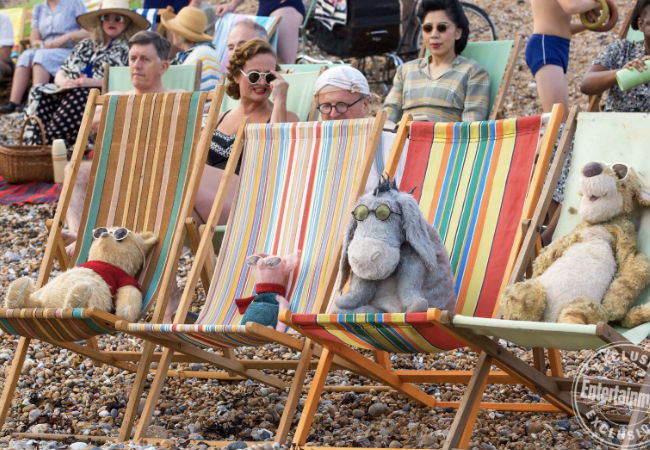 SNAPSHOT
In the heartwarming live-action adventure Disney's Christopher Robin, the young boy who loved embarking on adventures in the Hundred Acre Wood with a band of spirited and loveable stuff animals, has grown up and lost his way. Now it is up to his childhood friends to venture into our world and help Christopher Robin remember the loving and playful boy who is still inside.

Joining Ewan McGregor [as Christopher Robin] in the film is Hayley Atwell (Marvel's Agent Carter, Captain America: The First Avenger) as Robin's wife Evelyn, Bronte Carmichael as his daughter Madelin, and Mark Gatiss as Keith Winslow, Robin's boss. Voicing the characters from the hundred acre wood include Jim Cummings as Winnie the Pooh, Chris O'Dowd as Tigger, Brad Garrett as Eeyore, Toby Jones as Owl, Nick Mohammed as Piglet, Peter Capaldi as Rabbit, and Sophie Okonedo as Kanga. (synopsis via Coming Soon)
Life isn't heart to to the expansive tenderhearted fantasies of childhood.
Try as we might to hang onto the wonder and the magic, whether real or imagined, adulthood has a way of curdling all the innocent joy that came before.
That's not to say it doesn't come with rewards of its own, but rushing to catch trains, pay bills and be there for friends and family does tend to cloud the unfettered wisdom of childhood as Ewan McGregor explains to EW, who exclusively previewed some still-shots from the film:
"In those older stories, [Christopher Robin] purveys a lot of wisdom through the way he deals with Pooh. Pooh and Eeyore run through a lot of philosophical questions, and Christopher Robin is there to answer them somehow. And I think, largely, he's just lost any of that childish wisdom and he's a bit stuck. He's just very work-minded and doesn't have any time for play. I suppose that's what the film is about: finding his relationship with his younger self again."
While everyone else sees Pooh, Piglet, Tigger and Eeyore as stuffed toys, Christopher Robin, who in real life had his own complicated relationship with his father's much-loved literary creations, sees them as the real, wise friends of old, and this being a Disney film, no doubt finds his way back to the childhood bliss he once knew.
That's very rarely the case for the rest of us but I'm happy to spend the time I'm watching Christopher Robin believing you can go back to the giddy hope and unvarnished eagerness of childhood and maybe, just maybe, bring some of it back into your sadly-depleted adult present.
Christopher Robin opens 3 August USA and 20 September Australia.