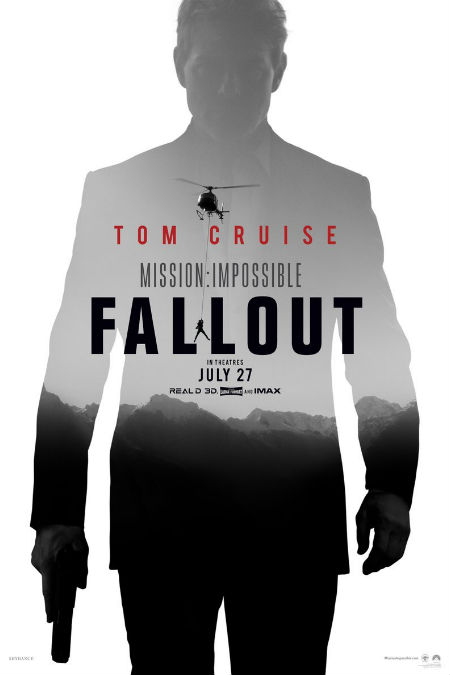 SNAPSHOT
The best intentions often come back to haunt you. Mission: Impossible – Fallout finds Ethan Hunt (Tom Cruise) and his IMF team (Alec Baldwin, Simon Pegg, Ving Rhames) along with some familiar allies (Rebecca Ferguson, Michelle Monaghan) in a race against time after a mission gone wrong. Henry Cavill, Angela Bassett, and Vanessa Kirby also join the dynamic cast. (synopsis via Coming Soon)
If you have perused this blog more than once, it will become palpably obvious that I have a predilection for films that verge on the quirky, the odd, the delightfully left-of-centre.
But given my omnivorous pop culture consumption habits, that is by no means the full story and I have an immense soft spot for blockbusters done well such as Wonder Woman and Kong: Skull Island.
And yes pretty much any entry in the Mission: Impossible franchise which occupies the same expansive, world-straddling genre as the James Bond and the Bourne franchises.
The next Mission: Impossible film, Fallout, released its trailer during the recent Super Bowl festivities, and it has everything we've come to expect from the films – epic action sequences (including another death-defying stunt from star Tom Cruise), sombre character introspection, a cavalcade of exotic locations and deftly-placed humour (mostly courtesy of Simon Pegg).
What it also possesses, according to director Christopher McQuarrie, is way more insight into Ethan Hunt, the leader of the group and a man who most definitely doesn't wear his heart on his sleeve:
"I've seen five of these movies and I don't know who Ethan Hunt is. One movie sort of dealt with his personal life; the other movies are about people speculating what's really going on in Ethan's head. I want to know who Ethan is in this movie, I want an emotional journey for this character, and Tom really embraced it." (Gamespot)
I highly doubt we'll see Hunt spilling his emotional guts (actual guts yes possibly) on a therapist's couch but expect some fairly intense emotional moments in amongst the explosions, the quips and the espionage double-crossing and dirty dealing.
Mission: Impossible – Fallout opens 27 July USA/UK and 2 August Australia.