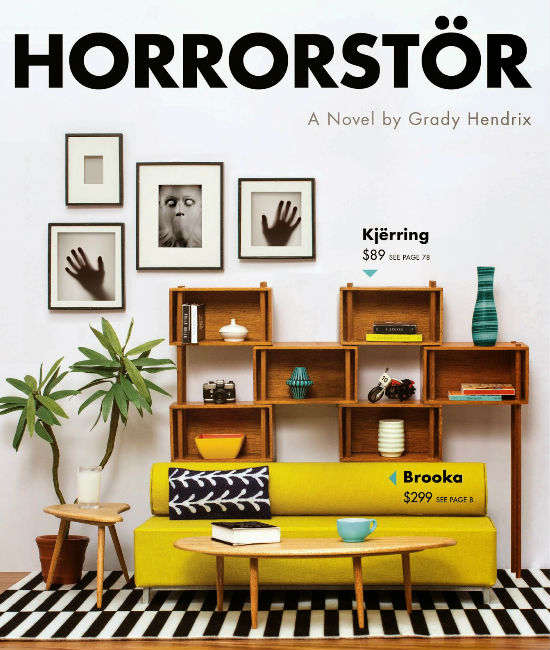 Aarrggh! Forget zombies and vampires and werewolves and White House-exploding alien invasions.
What is truly scary beyond measure is walking through a brightly-lit, sanitised assemble-it-yourself furniture megastore, with all its shinier-than-shiny, squeaky clean evocations of a The Stepford Wives-like lifestyle … and realising you will have to spend countless hours, and expend blood, sweat and tears and more swear words than a dock worker on morning break, assembling it all, praying all the while that you don't leave a part out.
But what if there was something even scarier than that? Yes scarier than trying than to follow one of those strangely oblique assemblage plans that always look like they have skipped a step or three hundred?
What if you worked there and had to stay in the store overnight on a graveyard shift? What then?
Well then you would have Horrorstör, a novel by novelist and New York Asian Film Festival co-founder Grady Hendrix whose cover, by Christine Ferrara of Call of the Small, resembles one of IKEA's famed catalogs (it's also filled with IKEA-like ads for creepy non-existent products by Mike Rogalski), and which promises, murder and mayhem in amongst, as c|net observes, "ready-to-assemble furniture like Jodlöpp, the Ingalutt and the Kraanjk — which are 'based on real devices used in 19th-century prisons', according to Hendrix.
This inventively-premised and cleverly-packaged book by Quirk Books, comes complete with a beautifully-shot trailer which was shot at a furniture store 24e in Savannah, Georgia by Epic Image Entertainment, who have succeeded beyond measure in bringing to life the spine-tinglingly scary plot of the book (taken from Quirk Books site via c|net):
"Every morning, employees arrive to find broken Kjerring wardrobes, shattered Brooka glassware, and vandalized Liripip sofa beds — clearly, someone or something is up to no good. To unravel the mystery, five young employees volunteer for a long dusk-till-dawn shift — and they encounter horrors that defy imagination."
It's available now and if you can handle the idea of flatpack furniture posing a danger to your life and limb – well more than it does already; those Allan keys are dangerous people! – you can check out an excerpt here.