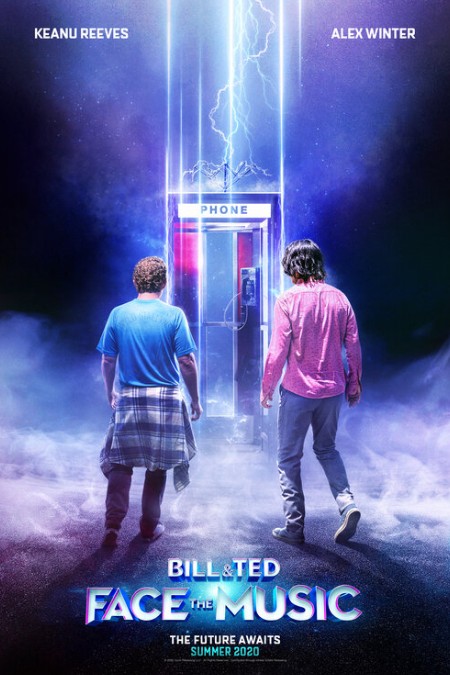 SNAPSHOT
Keanu Reeves (John Wick, The Matrix) and Alex Winter (Deep Web; Downloaded) will officially be reuniting on screen after 27 years as the legendary Ted "Theodore" Logan (Reeves) and Bill S. Preston Esq. (Winter) in the highly anticipated third installment of the Bill & Ted comedy, Bill & Ted Face the Music.

When we last met Bill and Ted they were time-traveling teenagers trying to pass history class and win the battle of the bands. Once prophesized to save the universe with their rock and roll, middle age and the responsibilities of family have caught up with these two best friends who have not yet fulfilled their destiny. They've written thousands of tunes, but they have yet to write a good one, much less the greatest song ever written. With the fabric of time and space tearing around them, a visitor from the future warns our heroes that only their song can save life as we know it. Out of luck and fresh out of inspiration, Bill and Ted set out on a time travel adventure to seek the song that will set their world right and bring harmony in the universe as we know it. Together with the aid of their daughters, a new crop of historical figures, and some sympathetic music legends, Bill and Ted find much, much more than just a song. (synopsis via Coming Soon)
It's been quite a while since we were adventuring or journeying (bogus or otherwise) with Bill & Ted … 1991, in fact, which is when Bill & Ted's Bogus Journey came out, the successor to 1989's Bill & Ted's Excellent Adventure.
Given that our once bodacious young men are, like the rest of us, getting on more than a little bit in years, you'd have to wonder if they're still up for some phone booth travelling with random historical figures … and they're daughters.
Turns out they are!
Bill & Ted Face the Music is coming soon with the intrepid duo ready to go and steal a song from themselves (it's not stealing then, right?) if it means saving the world and all that.
Granted, a teaser trailer does not a promising film make, and judgement likely must be reserved until we have a more complete trailer to view, but here's hoping the movie can be re-captured nearly 30 years later and we can once more glory in the cluelessly determined hilarity of a franchise that has now, belatedly, made it to trilogy status.
Bill & Ted Face the Music releases US summer 2020/Australia release is listed as 27 August (subject, no doubt, to further COVID-19 measures should they arise).