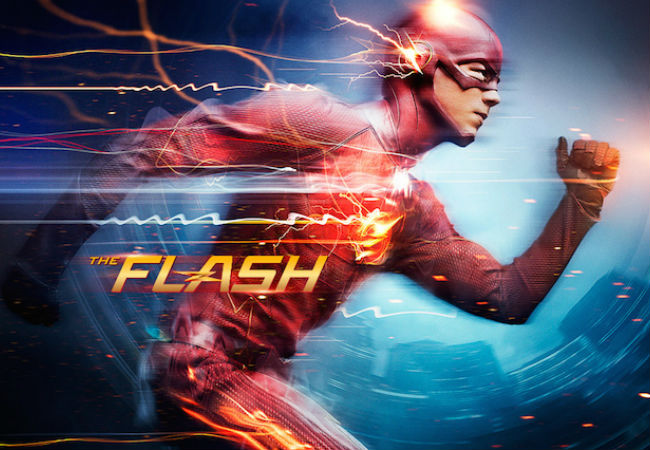 One of the unexpected delights of the last year TV-wise has been The Flash, one of the ever-expanding list of DC Comics properties on the small screen.
I say "unexpected" because I have never been a great fan of superhero comic books nor their movie or TV adaptations but there was, and is, something about The Flash that drew me in almost immediately.
Much of the appeal stems from Grant Gustin who imbues Barry Allen aka our titular hero with just enough gee-whiz, oh shucks everyday boy next door-ness to lend his unarguably special powers-imbued hero the right amount of down to earth relatability.
Watching him grapple with his newfound powers, the result of an explosion by the reactor at S.T.A.R. Labs, and struggle to work out how they relate to his day-to-day life and how to live any kind of life, normal or otherwise when you no longer even remotely normal (whatever that is anyway) made him the kind of protagonist you wanted to watch.
Sometimes he got it right, many times he got it wrong but he kept getting up and trying again, armed with family and friends, all of whom were uniformly lovely, appealingly flawed people, cheering him on every step of the way, just like in real life.
He finished off season 1 – SPOILER ALERT! – seeing off his one time friend/mentor then nemesis Dr. Harrison Wells (Tom Cavanagh) and basically saving the world, leaving him, you might think at a loose end come the start of season 2.
But fear not, there will a raft of new friends, and one big new baddy, says executive producer Gabrielle Stanton (
TV Line
):
"We didn't want Barry to get lonely so we thought we'd bring in some more speedsters. It's always Barry's journey. The Flash is always about Barry, but these people who come in will show us different ways that The Flash can be.

"Zoom is just scary as all hell. Zoom is going to be very different in terms of motivation, in terms of what he wants from The Flash, in terms of why he's doing what he's doing. I know a lot of people are thinking, '[Zoom and Reverse Flash] were so similar in the comics. What's going to make them different?' I guarantee no one will confuse him for one second with what we did last year. It's actually much more different than people would think."
Thankfully the "speedsters" Stanton refers to sound like a fine old bunch according to Cinema Blend:
"One of the new speedsters being brought aboard in Season 2 is Jay Garrick, played by Teddy Sears. Hailing from Earth 2, Jay is a more experienced Flash that will serve as Barry's new mentor. Then there's also Wally West, played by Keiynan Lonsdale. It hasn't been revealed whether he'll start out as a speedster (specifically Kid Flash) or just be a civilian when he debuts. All Stanton was willing to reveal is that he will have an "a very interesting and close relationship" with Barry and the S.T.A.R. Labs team. Executive producer Greg Berlanti also hinted earlier in the year that we may eventually see Bart Allen, though fans may not get to see that in Season 2 given all the speedsters being introduced."
And yes poor lovelorn Barry will find new love in the form of "kooky cop Patty Spivot (portrayed by Shantel VanSanten)" (
Den of Geek
) which presumably means that love true love with Iris West (Candice Patton) will have to find till sometime in the future.
Ah well, we all know TV U.R.S.T. cannot be held off forever so their time shall come.
In the meantime, there's a whole new season of The Flash to look forward kicking off on 6 October on CW.