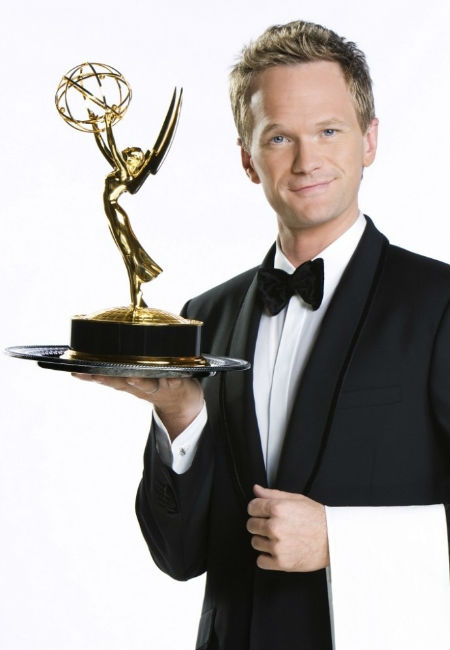 Bring me sackcloth and ashes! *
Let there be wailing and gnashing of teeth! **
And may you successfully duck as fingers point every which way while cries of "J'accuse" echo all around.
Yes another awards show has announced to the world who its favoured children are, in this case the primetime Emmys, and the predictable hue and cry over who wuz robbed, and how badly, is in full swing.
You can access the full list of nominations via emmys.com
Of course, it makes sense that the nominations provoke these sorts of responses – hey not everyone is madly in love with Mad Men or Games of Thrones, odd though that may sound – and in a way it's all very healthy that nominations made at 5.35am in Los Angeles touch of a passionate debate mere nanoseconds later.
It shows we all care deeply about the shows that we watch religiously, or irreligiously if you're an atheist, and bodes well for the sort of engagement these shows needs to compete in an ever more crowded digital landscape, where the options for our amusement seem to multiply as quickly as the outraged tweets at 5.36am.
Like everyone else, I had almost immediate thoughts about what should be on the list of nominations and what shouldn't have been and naturally, I felt compelled to share them with you.
Admittedly my sackcloth and ashes are still at the cleaners, and my dentist would kill me if I even considered gently tapping my teeth, let along gnashing them in zeitgeisty anguish.
But here's what are the three main things that sprang to mind as I pondered the nominations handed down at the ceremony on 18 July at the ceremony presided over by Aaron Paul (who deservedly was nominated once again as best supporting actor in a drama for the superlative Breaking Bad; see video below) and the host of this year's primetime Emmys Neil Patrick Harris (subbing in at the last minute for a flight-delayed Kate Mara (House of Cards)
1. Why didn't they send in the clones?
Yes I know you now all have the song "Send in the Clowns" mournfully dragging itself across your neurones, but what other headline would even have come close to being appropriate for discussing how it is that Orphan Black, which surely must be one of THE shows of the shows, featuring one of the most versatile talented actors I have seen in some time, Canadian Tatiana Maslany.
In case you haven't caught up with this impressive BBC America show, it centres on a foster home-raised small time con woman, Sarah Manning, who arrives back in town to reclaim her daughter only to discover that life is a whole lot more complex than simply reasserting her custody. She encounter not one but four other women who look exactly like her though all have markedly different lives – one is a Soccer Mom, one a PhD candidate, one a badass Russian with attitude. As the plot thickens, and the conspiracy of silence unfolds she discovers that they are all clones, part of some super secret project though to what end no one is sure.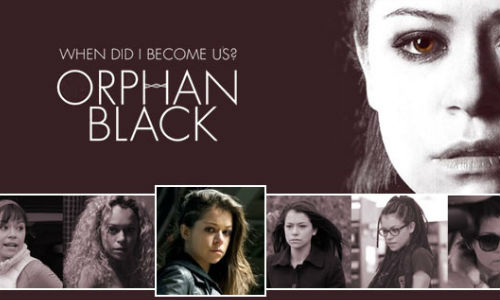 Tatiana Maslany of course has to play all six roles, often in the same scene and each of the woman are so different, and so perfectly, fully-realised, in a plot that is deliciously complex while still being accessible, that you spend much of the show in awe of her ability to bring such different characters to life so vividly.
As Entertainment Weekly's Jeffrey Jenson noted on insidetv.ew.com:
"If I had an Emmy ballot, she'd be on the Best Actress list, or at least three of the Best Supporting Actress spots. Or both. She never phoned in any of her clones. They all felt remarkably realized."
Still as Julie Miller wisely pointed out at vanityfair.com, it isn't so much a snubbing of Tatiana Maslany as it being a case of not enough room at a very talented inn:
"If it is any consolation to Maslany, the best-actress-in-a-drama-series category was so stacked this year—Connie Britton (Nashville), Claire Danes (Homeland), Michelle Dockery (Downton Abbey), Vera Farmiga (Bates Motel), Elisabeth Moss (Mad Men), Kerry Washington (Scandal), and Robin Wright (House of Cards)—that even The Good Wife's Julianna Marguiles was shut out in the cold."
There is a second series in the offing of this remarkable show, and with all the publicity generated by the outrage over Orphan Black and Tatiana Maslany's omission from the nominatiions, there are bound to be far more eyeballs watching next time around.
So while the outrage is justified, there is a silver lining to the whole saga that is so bright as to be blinding.
2. Rise of the web
It's been a much-repeated refrain for some time now that the digital revolution would profoundly change the way we enjoy our visual entertainment, and while increasing numbers of people are finding new (and old) shows to watch via streaming services such as Netflix and Hulu, and the ever-multiplying YouTube channels, this is the first time that the Emmys have acknowledged this shift in viewing habits in any obviously meaningful way.
While not everyone agrees that Netflix's nominations for the Kevin Spacey and Robin Wright starring House of Cards (9 nominations including one for best drama), Arrested Development (3 nominations) and Hemlock Grove (2 nominations) is a signal that online TV's moment has finally arrived – Myles McNutt argues that "Netflix is not Emmy's Online TV Vanguard" – it is a significant development in an industry that largely to this point has treated web-based content as not quite real TV.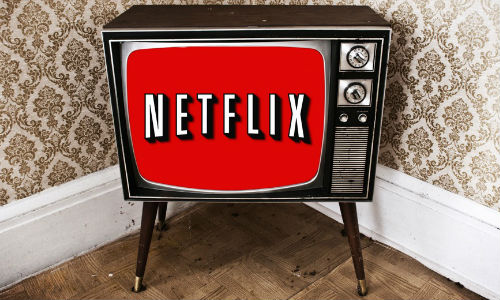 The fact that House of Cards made it into the hotly contested drama category, against the likes of Breaking Bad, Games of Thrones and Mad Men is clear sign that it is not only it is in and of itself excellent TV but that high class Tv is now coming increasingly via non-traditional channels.
A vanguard it may not be but it is an exciting step towards recognition that the entertainment landscape is twisting and contorting, thanks to the rise of technology, into ever more exciting, and hitherto, unseen shapes.
And that's very good, non-ostrich-head-in-the-sand behaviour that should be welcomed.
3. Oh Amy why do they not love you as I do?
On reflection that headline does sound just a wee bit stalker-ish but I would like to assure the NSA, and its Australian counterpart, that it's simply the utterings of a gushing Amy Poehler fan and nothing more.
Yes I know she was nominated for her starring role in what one of the most cleverly-written sitcoms to ever grace our screens, Parks and Recreation, alongside such comic luminaries as Edie Falco, (Nurse Jackie), Tina Fey (30 Rock), and Julia Louis-Deryfus (Veep), and that is a Very Good Thing.
But it would have been even sweeter if both Parks and Recreation, and all of Poehler's equally talented co-stars, had been given the nominations they so richly deserve.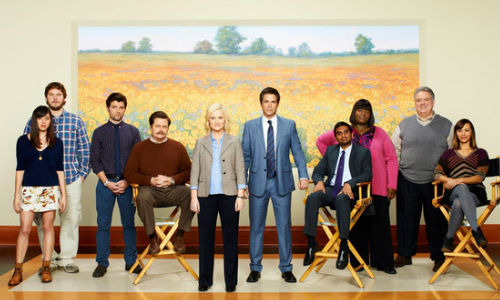 That's not of course to say that it would have been easy to make room for Parks and Recreation in the Outstanding Comedy Series category, but though I love it dearly, I might have ever so quietly pushed Modern Family off to one side and given NBC's best-performing sitcom a well-deserved moment in the Emmy sun.
It would have been very much a who-to-keep-in-the-lifeboat moment, a pop culture Sophie's Choice if you will, but I would have done it if it meant that this gem of a sitcom got some more attention.
Whether it would win is another matter entirely since it is up against such stellar shows as 30 Rock (which will likely win given it has finished its run and the Emmys are a bunch of sentimental folks at heart), The Big Bang Theory (which I adore), Girls (clever, oh so clever), and Veep, but I would have liked it to at least have been given a chance.
TWO LAST THINGS
YAY! I was thrilled that Portlandia, from co-creators and co-writrs, Carrie Brownstein, and Fred Armisen (who has just exited Saturday Night Live) was nominated for one writing (Outstanding Writing For A Variety Series) and one directing award (Outstanding Directing For A Variety Series).
This is what Carrie Brownstein had to say about these two nominations on vulture.com:
"I think it's always such a surprise to wake up to one, let alone two nominations, so we're not thinking about, 'How many can we get?. To even be on the periphery of that nexus of excitement is an honor for us. And it just gives us such a sense of confidence as we write season four."
You can read the full interview of Carrie Brownstein by Jennifer Vineyard here.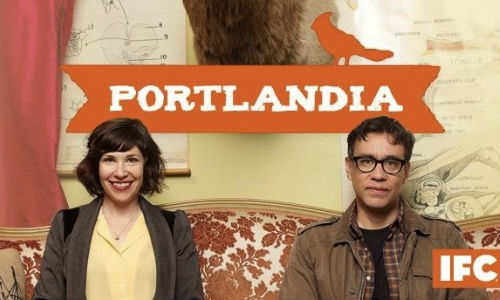 NOOOO! It disappointed me greatly that The Americans didn't get more lovin' than it did.
It's a brilliantly well-written, beautifully acted show that builds some much-needed greys into the Cold War-saturated 1980s, a starkly black-and-white era of extreme positions if ever there was one, and is one of the finer series to premiere this year.
Granted Margo Martindale as Claudia garnered a nomination in the Outstanding Guest Actress In A Drama Series category, and Nathan Barr got a look-in in the Outstanding Original Main Title Theme Music section, but it missed out in the Outstanding Drama category, as did Keri Russell in the Best Actress division, a particularly egregious oversight as Matt Zoller Seitz observed at vulture.com:
"Not only was she flat-out terrific — as strong as Claire Danes on the similar Homeland, which is strong indeed — she obliterated past associations with her best-known character, Felicity. That's very hard to do, and not many TV stars have managed to do it."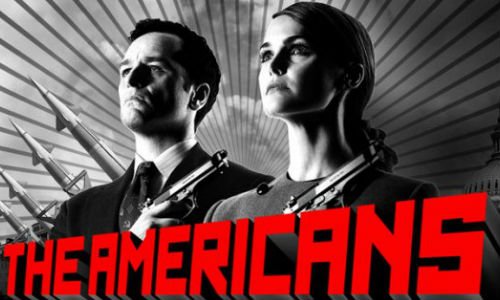 You can read the rest of his terrific thoughts on the nominations here.
And here's the announcement replay for you in all its early morning glory …
Here's the full list of the nominations all the major categories (again to access the full massive list of nods, head across to emmys.com)
Outstanding Drama Series
Breaking Bad

Downton Abbey

Game of Thrones

Homeland

House of Cards

Mad Men
Outstanding Lead Actor in a Drama Series
Hugh Bonneville, Downton Abbey
Bryan Cranston, Breaking Bad

Jeff Daniels, The Newsroom

Jon Hamm, Mad Men

Damien Lewis, Homeland
Kevin Spacey, House of Cards
Outstanding Lead Actress in a Drama Series
Connie Britton, Nashville

Claire Danes, Homeland

Michelle Dockery, Downton Abbey

Vera Farmiga, Bates Motel
Elisabeth Moss, Mad Men
Kerry Washington, Scandal
Robin Wright, House of Cards
Outstanding Supporting Actor in a Drama Series
Bobby Cannavale, Boardwalk Empire

Jonathan Banks, Breaking Bad

Aaron Paul, Breaking Bad

Jim Carter, Downton Abbey

Peter Dinklage, Game of Thrones

Mandy Patinkin, Homeland
Outstanding Supporting Actress in a Drama Series
Anna Gunn, Breaking Bad
Maggie Smith, Downton Abbey
Emilia Clarke, Game of Thrones
Christine Baranski, The Good Wife
Morena Baccarin, Homeland

Christina Hendricks, Mad Men
Outstanding Guest Actor in a Drama
Nathan Lane, The Good Wife
Michael J. Fox, The Good Wife

Rupert Friend, Homeland
Robert Morse, Mad Men

Harry Hamlin, Mad Men

Dan Bucatinsky, Scandal
Outstanding Guest Actress in a Drama
Margo Martindale, The Americans

Diana Rigg, Game of Thrones
Carrie Preston, The Good Wife
Linda Cardellini, Mad Men
Jane Fonda, The Newsroom

Joan Cusack, Shameless
Outstanding Comedy Series
30 Rock

The Big Bang Theory

Girls

Louie

Modern Family

Veep
Outstanding Lead Actor in a Comedy
Alec Baldwin, 30 Rock

Jason Bateman, Arrested Development
Louis C.K., Louie

Don Cheadle, House of Lies

Matt LeBlanc, Episodes

Jim Parsons, The Big Bang Theory
Outstanding Lead Actress in a Comedy
Laura Dern, Enlightened
Lena Dunham, Girls
Edie Falco, Nurse Jackie
Tina Fey, 30 Rock
Julia Louis-Dreyfus, Veep

Amy Poehler, Parks and Recreation
Outstanding Supporting Actor in a Comedy
Ty Burrell, Modern Family

Adam Driver, Girls

Jesse Tyler Ferguson, Modern Family
Bill Hader, Saturday Night Live
Tony Hale, Veep
Ed O'Neill, Modern Family
Outstanding Supporting Actress in a Comedy
Mayim Bialik, The Big Bang Theory
Julie Bowen, Modern Family
Anna Chlumsky, Veep

Jane Krakowski, 30 Rock
Jane Lynch, Glee
Merritt Wever, Nurse Jackie
Outstanding Guest Actor in a Comedy
Bobby Cannavale, Nurse Jackie
Louis C.K., Saturday Night Live
Will Forte, 30 Rock
Nathan Lane, Modern Family
Bob Newhart, The Big Bang Theory
Justin Timberlake, Saturday Night Live
Outstanding Guest Actress in a Comedy
Dot-Marie Jones, Glee

Melissa Leo, Louie
Melissa McCarthy, Saturday Night Live
Molly Shannon, Enlightened

Elaine Stritch, 30 Rock
Kristen Wiig, Saturday Night Live
Outstanding Reality Competition Program
The Amazing Race

Dancing With the Stars

Project Runway

So You Think You Can Dance

Top Chef
The Voice
Outstanding Reality Host
Tom Bergeron, Dancing With the Stars
Anthony Bourdain, The Taste

Cat Deely, So You Think You Can Dance

Hedi Klum and Tim Gunn, Project Runway
Ryan Seacrest, American Idol

Betty White, Betty White's Off Their Rockers
Outstanding Variety Series
The Colbert Report

The Daily Show With Jon Stewart

Late Night With Jimmy Fallon

Real Time With Bill Maher

Saturday Night Live
Outstanding Miniseries or Movie
American Horror Story: Asylum

Behind the Candelabra

The Bible

Phil Spector

Political Animals

Top of the Lake
Outstanding Lead Actor in a Miniseries or Movie
Benedict Cumberbatch, Parade's End

Matt Damon, Behind the Candelabra
Michael Douglas, Behind the Candelabra
Toby Jones, The Girl

Al Pacino, Phil Spector
Outstanding Lead Actress in a Miniseries or Movie
Jessica Lange, American Horror Story: Asylum

Laura Linney, The Big C: Hereafter

Elisabeth Moss, Top of the Lake

Helen Mirren, Phil Spector

Sigourney Weaver, Political Animals
Outstanding Supporting Actor in a Miniseries or Movie
Scott Bakula, Behind the Candelabra
James Cromwell, American Horror Story: Asylum
John Benjamin Hickey, The Big C: Hereafter
Peter Mullan, Top of the Lake
Zachary Quinto, American Horror Story: Asylum
Outstanding Supporting Actress in a Miniseries or Movie
Ellen Burstyn, Political Animals
Sarah Paulson, American Horror Story: Asylum

Charlotte Rampling, Restless
Imelda Staunton, The Girl

Alfre Woodard, Steel Magnolias
* Ancient mourning clothes, most loved by people prostrating before their gods; not exactly fashion for the streets however (unless you're a dour, unsmiling catwalk model in which you will look perfectly normal).
** This is not approved by 9 out 10 dentists; the 10th dentist isn't actually paying attention to what you're saying and thinks you're "mashing beef" … just leave him or her be.