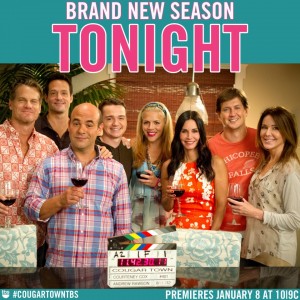 Ok here's the insane thing (just the one dear?).
I am in Australia, thousands of miles from the USA, with no hope of getting there in time to see it, but I am beyond excited that my beloved Cougar Town is back on air 10/9c Tuesday night US time on its new station, TBS.
It marks the return of the one of the funniest, and most underrated sitcoms on TV today – we can thank the inordinately clever Bill Lawrence (co-creator Spin City, creator Scrubs) for this comedic gem – and a group of characters that you really look forward to spending time with.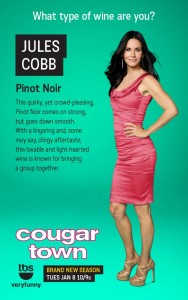 It's irreverent, in your face, left-of-centre and gleefully odd at times and gives the big finger with joyful abandon to any and all political correctness.
And in a risk-averse world where people are afraid to sneeze without fear of the damage it will do, that kind of devil-may-care writing, and the inspired acting that brings it to life, is ridiculously refreshing.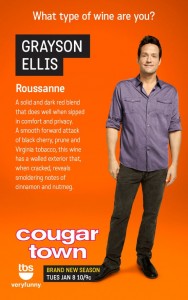 Now when we last saw our band of red wine gulpers, they were on ABC, one of the main broadcast networks in the USA, where they had gathered a loyal fan base but not alas, massive ratings figures.
Given that the broadcast networks live and die by the Nielsen's hand – ratings are after all what determine how much money they can charge for their ads and hence how profitable they will be – this led to ABC sending the show into what some feared could be a permanent hiatus.
Unwilling to let that happen, Bill Lawrence, and Courteney Cox (who plays Jules in the show and is, along with ex-husband David Arquette, an executive producer of the show), shopped the show around to a station they felt would offer it the attention and promotion it deserved, and they found it in TBS, where Cox, who couldn't be more delighted with the move, already appears in re-runs of Friends.
"All I know is that TBS took a chance and they have done this wholeheartedly. I've never felt more support, and the way they've even done the promotion is top-quality. The promos have been fancier than any commercial I've ever done, and you know how much money people put into commercials."
(You can read the full article this quote is taken from at blog.zap2it.com)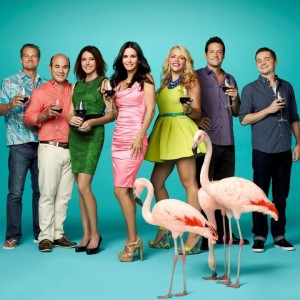 Storyline-wise, season three saw Jules and Grayson (Josh Hopkins) getting engaged, and then, naturally enough, married, somewhat illegally, on a beach after their private elopement to Napa doesn't quite work out (largely due to Jules inviting the whole group along, a drunk Travis (Dan Byrd) finally telling Laurie (Busy Philipps), who has a long distance soldier boyfriend stationed in Iraq, that he loves her, Jules' best friend Ellie (Christa Miller) trying to convince the gang her newly-introduced mum is a psychopath, and Bobby (Brian Van Holt), Jules' ex husband (and best friend to Ellie's husband Andy played by Ian Gomez) breaking up with new love Angie (Sarah Chalke, ex-Scrubs) when she was found cheating on him.
PHEW! Got all that?
Yes? Well then you're ready for season 4, again on TBS tonight (if you're in the USA) at 10/9 Central, and for the love of Merlot, make sure you have enough wine!
Want a less frantic rundown on the show? Try this …
And here's some fun New Year's promos for you …
And last but not least, a wonderful interview with Busy Philipps on advocate.com.
Wine up people! Enjoy!