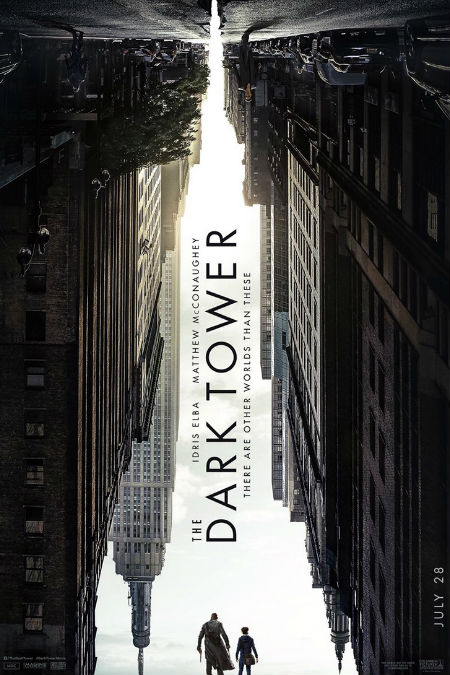 SNAPSHOT
Jake Chambers (Tom Taylor) is an 11-year-old adventure seeker who discovers clues about another dimension called Mid-World. Upon following the mystery, he is spirited away to Mid-World where he encounters a Gunslinger, Roland Deschain (Idris Elba), who is on a quest to reach the "Dark Tower" that resides in End-World and reach the nexus point between time and space that he hopes will save all existence from extinction. But with various monsters and a vicious sorcerer named Walter Padick (Matthew McConaughey) hot on their trail, the unlikely duo find that their quest may be difficult to complete. (synopsis via Laughing Squid)
I have a grave confession to make (you may wish to sit down).
I have not read Stephen King's The Dark Tower series, regarded by all and sundry as his crowning achievement, an eight book saga detailing, in ways vivid and profound, a titanic, multiverse-set battle between good and evil.
It's massive, expansive and utterly immersive by all accounts which makes it damn near perfect for an incipient franchise, the first film of which, prosacically titled The Dark Tower coming our way soon, starring Idris Elba as the Gunslinger (the good guy) and Matthew McConnaughey as the Man in Black (the bad guy).
The first trailer and character posters have dropped and my lordy does this look like a cracker of a tale, the sort of film that demands a cinema visit, the bigger the screen the better and en tire surrender to the wonders of master storytelling.
You can journey into the wilds of Stephen King's magnum opus when The Dark Tower opens in USA on 4 August and Australia on 17 August.
Behold two new character posters showing the protagonist and antagonist of The Dark Tower …