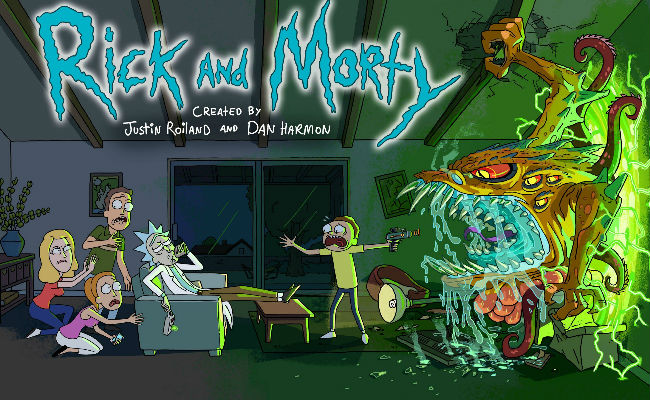 Rick and Morty is delightfully, deliciously, darkly, fabulous strange and wildly imaginative, both verbally and visually – yes I seem to have slipped into an alliterative stream and I'm just going to go with it  – delivering up two seasons of wacked-out adventures through space, time and weird dimensions on Adult Swim.
The brainchild of Community's Dan Harmon and collaborator Justin Roiland (Adventure Time), Rick and Morty is the story of an alcoholic scientist Rick and his impressionable, easily-persuaded grandson Morty (both voiced by Roiland) who reconnect when Rick reenters the lives of his daughter's family after 20 years away.
It is as politically incorrect as you could ask for, breathtakingly clever and given vibrant life by fully-fleshed out characters, impressively-inventive world building and some truly meaningful emotionalism.
This is cartooning as its zenith so it makes perfect sense that Vulture would gather Harmon, Roiland, Spencer Grammer, who voices Rick's granddaughter Summer, and one of the show's writers Ryan Ridley together to do an improvised mini-episode that naturally enough, centres on faeces and kneecaps.
How could it not?
It is absolutely hilarious and makes waiting for season 3, which is supposed to drop sometime in 2017, both harder and a little easier all at once.
Let's get riggity riggity wrecked everyone and watched some improv Rick and Morty! BURP!