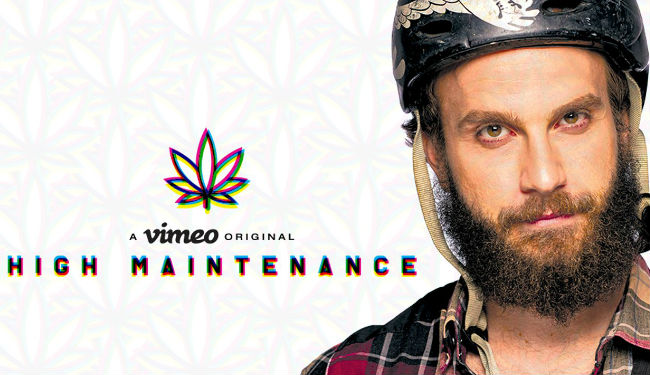 SNAPSHOT
Created and written by the married duo, Katja Blichfeld and Ben Sinclair, High Maintenance follows a Brooklyn pot dealer as he delivers to clients with neuroses as diverse as the city. Ben Sinclair stars as "The Guy," an everyman pot dealer who makes cameo appearances in the lives of various New Yorker City residents, providing them with weed and getting a glimpse at their daily routines and how they light things up. The show is produced by Katja Blichfeld, Russell Gregory and Ben Sinclair. (official synopsis via HBO)
The march of successful online comedies continues apace with HBO another hit web series that has been garnering quite of attention since its debut.
Obviously HBO and the show's creators, married couple Katja Blichfeld and Ben Sinclair see this coming together of old and new media to be a masterful move with Katja and Ben having this to say about their televisual marriage, which is slated to involve six episodes in its first season.
"We have been growing this show organically for three years now, and we are elated to bring it into full maturity at HBO, the gold standard of both online and televised entertainment."
The initial six episodes which uses the narrative device of a pot dealer to delve into the lives of a disparate group of New Yorkers all united by their recreational use of weed, will be joined by the 19 existing Vimeo instalments.
A mix of humour and keen observance of the human condition, High Maintenance is the kind of clever, insightful show that HBO delivers up consistently, underlining their ability to spot storytellers with real talent who has something fundamentally substantial to say in a really entertaining manner.
It looks and sounds like it's very much worth watching with The Guardian having this to say about the web series.
"It's not really about a weed dealer and his wacky clients, at least not any more. It's about worrying that the world is going to end, that your dreams of doing something great in the world will be dashed by other people's selfishness, that you will die alone without anyone to love you or help you. It's about all the reasons why we smoke pot, especially as New Yorkers, in the first place – and the peace and connections it brings. "
High Maintenance premieres Friday 16 September  at 11:00-11:30 p.m. ET/PT on HBO.