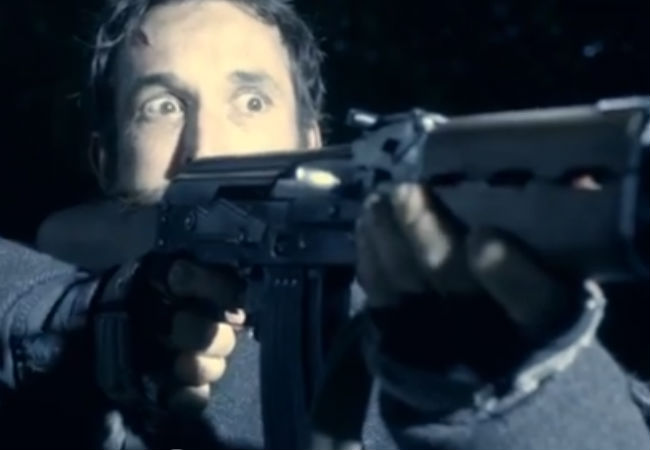 "You have taken everything and everyone I have ever loved."
(Anne Glass – played by Moon Bloodgood – to an unseen adversary)
There is no doubt that surviving the alien apocalypse unleashed upon the earth by the Espheni, a highly intelligent, imperialistic and cruel race from far beyond the stars, has been an exhausting, terrifying and emotionally-isolating experience for the beleaguered, hunted remnants of humanity.
We know this because over three sometimes wildly uneven seasons of Steven Spielberg's Falling Skies, we have followed the travails and triumphs – mostly the former unfortunately – of the citizens of the 2nd Mass., a roving band of a few hundred civilians and military types who have done their determined small part to hold back the seemingly unending tide of extra terrestrial life washing up on our planet.
These plucky but worn down survivors have lost beloved family and friends, witnessed setbacks that would have stopped lesser folk in their tracks, been brain washed, harnessed (alien creatures that attack to the back of a person allowing the Espheni to control them) and manipulated into believing that  virtual realities are the real thing.
It would be enough to test anyone's resolve to keep moving forward, and fight the good fight and you wouldn't blame them for simply wanting to throw in the towel and call the end of a very long, brutal and bloody day.
And as this new expanded trailer, which was debuted at Wondercon recently, makes clear, that kind of thinking is running rampant among the scattered 2nd Mass., who have splintered through battles unseen in the period since season 3, into a dispersed collection of small groups, all of them under unremitting siege in one way or another.
"We're done fighting, we're done running. This is no way to live."
(Pope, played by Colin Cunningham)
But hope, of course, has not completely deserted them, as is abundantly clear throughout the trailer.
In between facing off against the ever present Mechs and Skitters, and dealing with the arrival of a new race the Volm, who seem to have an agenda all of their own, people like Anne Glass, Tom Mason (Noah Wylie) and Captain Weaver (Will Patton) refuse to give up the fight.
And what an even busier, more demanding fight it is turning out to be.
The world has changed … But not all is lost … When hope remains … 
The trailer is packed full to bursting with titbits of revelation – we see Anne and her group rescuing a truck full of children, Maggie (Sarah Carter) kissing Tom's middle son Ben (Connor Jessup), battles unending and innumerable, renewed questions about why the aliens are really here, the promise of a great battle to come and the appearance of a mysterious white-haired girl played by Scarlet Byrne (Harry Potter) who makes her identity known in the most amazing way by the end of the promotional piece.
What stands out most throughout all of this though is the fact that exhausted and brutalised and almost at the end of their tether though they may be, that the tenacious spirit of survival that so characterises humanity has not deserted them, and isn't likely to, no matter how fearsome the odds.
The battle for earth resumes when Falling Skies returns on June 22.
And to give you a little extra insight into season 4, here's Sarah Carter, who plays Maggie, talking about what lies ahead, at least in part, for the split apart beleaguered 2nd Mass [see above] …