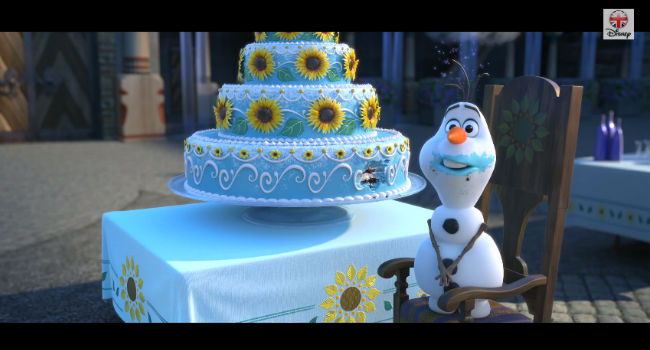 As you may have noticed if you haven't been trapped under an ice floe for the past 15 months or so (and possibly still even then), Frozen, Disney's music-filled, visually-stunning, heartwarming take on Hans Christian Anderson's fairytale "The Snow Queen", is a BIG DEAL.
I mean, grossed $1.2bn [insert Dr. Evil from Austin Powers doing his thing here] to date, world wide phenomenon that shows no sign of stopping, "Let It Go" on endless repeat while little girls dance around in colourful, gossamer princess dresses BIG.
And it shows no sign of slowing down anytime yet.
Now, while there is no confirmation of a feature-length sequel in the works – at least a movie sequel anyway; Disney announced mid last year that it would continue the story of Anna and Elsa and their eclectic bunch of friends in book form – there is a brand new 7-minute short, Frozen Fever, that will be the lead-in to Disney's live action re-telling of the classic tale of Cinderella.
Exciting news for sure, and now we have a tangible sense of what the short, directed by the same people who helmed Frozen itself, Chris Buck and Jennifer Lee and featuring the same voice cast which includes Idina Menzel, Kristen Bell, Jonathan Groff and Josh Gad, will be like in the form of a delightful 39 second trailer.
It has, as you'd expect, a show-stopping song, again by the same team that made Frozen such a musically magical experience, Robert Lopez and Kristen Anderson-Lopez, Olaf acting goofy and eating cake, Anna and Elsa showing the sisterly love, and the whole kingdom of Arendelle turning out to celebrate in fine style.
To complicate things just a little bit Elsa also gets a cold and her powers, which have proven to be a little chilly and unpredictable cause havoc once again.
It sounds like delightful fun, so much fun in fact that I am highly tempted to fly up north to the Gold Coast in southern Queensland, and take my niece to go and see it.
I have every feeling that it, and Cinderella itself, will be worth the time and expense.
Yup, it looks like neither I, my niece or any of Frozen's fans are going to be able to "Let It Go" anytime soon.
(source: Hey U Guys)
And here's an interview with conducted by the awesome people at Hey U Guys with the directors of Frozen, Chris Buck and Jennifer Lee …