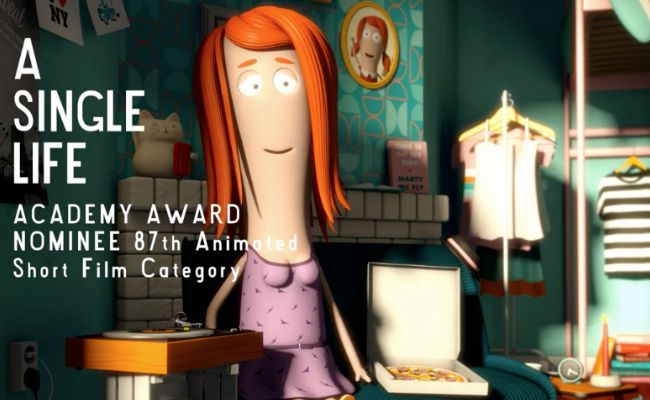 SNAPSHOT
A Single Life is an animated short film in which Pia finds a vinyl single. When playing the mysterious single, Pia is suddenly able to travel through her life. If she spins the record forward, she becomes older. If she skips backwards, she gets younger. (synopsis via Vimeo)
Who doesn't have regrets of The Sliding Doors kind?
You know the ones that pop into your mind from time to time, pondering what might have have happened if only you have done X instead of Y, taken door N instead of door A, kissed that girl/guy rather than walking away.
We all have them, and while it makes sense they keep haunting with the either/or nature of their existence in our memories, they're ultimately pretty useless since there's nothing we can do to alter the way they played out.
We made a decision and for better or worse, are saddled with the results.
But what if we could change the way things happened simply by spinning a vinyl single, a magical vinyl single naturally, that allows us to move back and forth through time, altering things at we so choose.
Ah well, then anything would be possible as Pia discovers one night in the Dutch Oscars-nominated short film A Single Life, directed by Joris Oprins, when she finds her pizza diminishing or replenishing, based simply on which way she spins a mysterious vinyl single she has recently come across.
The possibilities of course are endless – let's be fair, a never ending box of pizza is a pretty good starting point – and open the door, a sliding door, to all manner of revised decision-making.
The delightful stop-motion animation in the film, which was produced by a team that included Oprins, Job Roggeveen en Marieke Blaauw,  is by itself enough to make you make you want to see what Pia does with these newfound regret-erasing powers but I suspect there is all manner of whimsical yet meaningful subtext waiting to be found there too.
I am looking forward to the day I get to see it; if that doesn't happen, then the hunt will be on for a magical vinyl single which will allow me to go back in time, make a film or two, watch the short film as a member of the Academy and … hmm, maybe I should wait till it comes to Australia.
In the meantime, I have an oddly pushy feeling I need some pizza, preferably of the auto-replenishing variety.