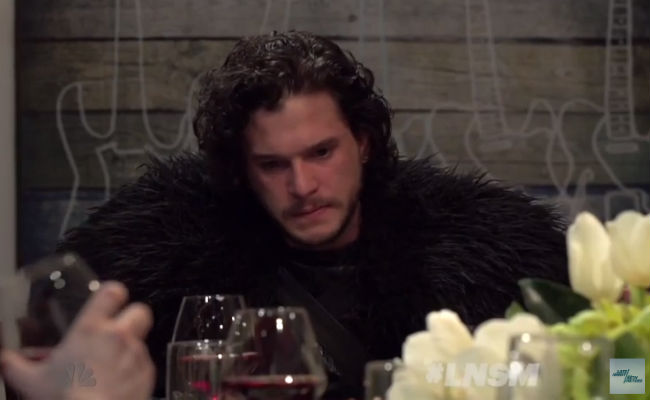 We've all been to dinner parties like it.
What seems at first like it will be a relaxed evening over great food and fine wines with very good friends suddenly becomes weird, awkward and interminably long thanks to the presence of one unexpected, strange and oddly-self-involved guest with the social skills of a longterm cult member whose only interests are canned goods and rainfall charts.
Or in the case of Jon Snow (Kit Harrington), the bastard son of Lord Eddard Stark (Sean Bean) of Winterfell, who turns up at Seth Meyer's dinner party one night – it's revealed they met at a Cross Fit class because even warriors need toning apparently – an understandably moody disposition, coarse dining skills and an obsession with death, betrayal and familial violence.
He is not exactly the life of the party and it's not until Seth Meyers repeatedly takes him aside and coaches him on appropriate social etiquette that Snow realises the path to true dinner party acceptance, and possibly the love of a fetching single lass lies in tales of derring-do and high romance.
In fact, so well does he turns things around and enthral everyone with his tale that all the guests agree that Snow's life and that of the rest of blood-soaked inhabitants of Westeros would make a fine series of books, or you know, even a TV series.
Fancy that!
Something to consider all right but not before all the wine is drunk, tales are told and a certain beguiled young lady is courted …