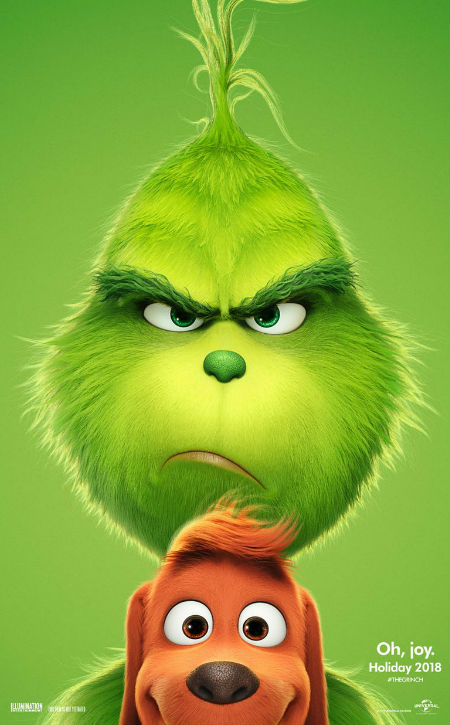 SNAPSHOT
For their eighth fully animated feature, Illumination and Universal Pictures present The Grinch, based on Dr. Seuss' beloved holiday classic. The Grinch tells the story of a cynical grump who goes on a mission to steal Christmas, only to have his heart changed by a young girl's generous holiday spirit. Funny, heartwarming and visually stunning, it's a universal story about the spirit of Christmas and the indomitable power of optimism.

Academy Award nominee Benedict Cumberbatch lends his voice to the infamous Grinch, who lives a solitary life inside a cave on Mt. Crumpet with only his loyal dog, Max, for company. With a cave rigged with inventions and contraptions for his day-to-day needs, the Grinch only sees his neighbors in Who-ville when he runs out of food.

Each year at Christmas they disrupt his tranquil solitude with their increasingly bigger, brighter and louder celebrations. When the Whos declare they are going to make Christmas three times bigger this year, the Grinch realizes there is only one way for him to gain some peace and quiet: he must steal Christmas. To do so, he decides he will pose as Santa Claus on Christmas Eve, even going so far as to trap a lackadaisical misfit reindeer to pull his sleigh.

Meanwhile, down in Who-ville, Cindy-Lou Who—a young girl overflowing with holiday cheer—plots with her gang of friends to trap Santa Claus as he makes his Christmas Eve rounds so that she can thank him for help for her overworked single mother. As Christmas approaches, however, her good-natured scheme threatens to collide with the Grinch's more nefarious one. Will Cindy-Lou achieve her goal of finally meeting Santa Claus? Will the Grinch succeed in silencing the Whos' holiday cheer once and for all? (synopsis via Coming Soon)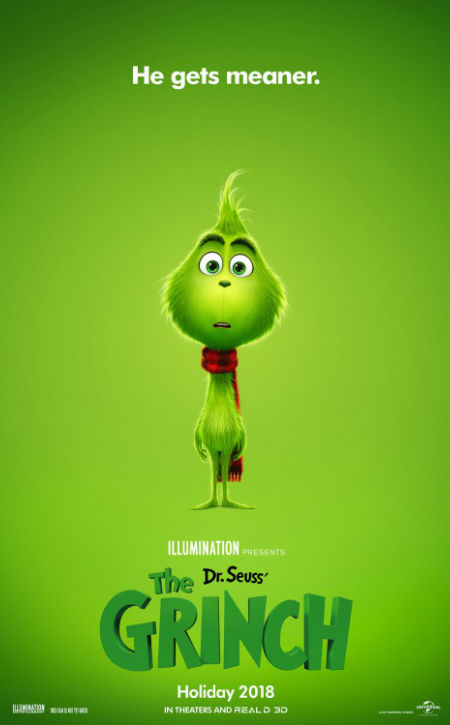 I love animation.
Perhaps it's my inner child still flexing his considerable imaginative muscles or maybe I just love the escapism that comes with made-up worlds, drawn and illustrated, that are so different and so much more free than my own.
Whatever the basis, I have loved animated films and TV shows since I was a kid and I don't see the love affair ending anytime soon, as long as Pixar and Disney keep releaseing wonderful films, Laika and Aardman keep making gorgeously well-realised stop-motion films and Studio Ghibli's superlative output is still there to stream.
One rung down from these A-gamers is Illumination Entertainment and while I enjoy their films on a reasonably superficial level, films like Sing and the Despicable Me series, while lovely and cute in their own way, never really hit the heights of Pixar or Laika. (The Secret Life of Pets aside which was actually quite moving and delightfully realised.)
So the fact that they're behind the latest iteration of The Grinch means you can expect quick easy jobs, sparklingly colourful animation and lots of cute moments to distract from the lack of robustness in the story.
Now as Boss Baby, which somehow managed to snag an Academy Award nomination, illustrates all too painfully, kids care not often about robust storylines nor particularly fetching animation.
The big plus for Illumination's films is that they do have a knack for catchy animation and memorably arresting characters, even if the narratives in which they exist aren't as complex nor philosophically or emotionally dense as Pixar or Laika's efforts.
All that to say that The Grinch looks like it will be amusing and fun as far as it goes but I can help agreeing with IO9 when they say:
"… this time around, it looks like the Grinch is less a public menace who seeks to destroy Christmas, and more a disgruntled humbug who'd take 11 items into the 10-item lane at the grocery store. I'm shaking in my fur pants."
Still, while this is likely one for parents, and for guncles (gay uncles) like me, it could be amusing enough to pass the time and if they're doing their job right, and let's face it generating festiveness shouldn't be that hard, get us in the Christmas spirit.
The Grinch opens in the USA and UK on 9 November and Australia on 29 November.