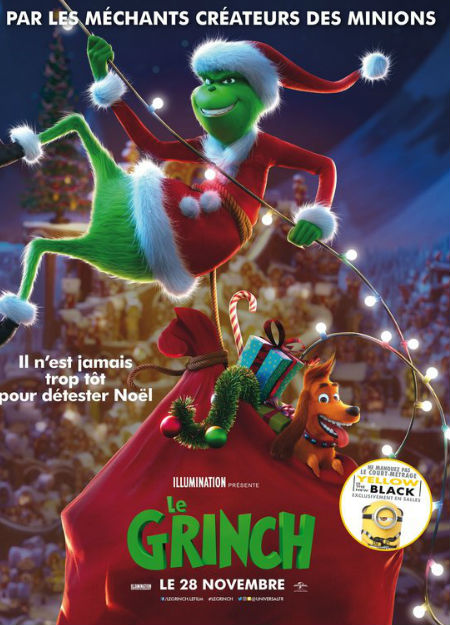 SNAPSHOT
For their eighth fully animated feature, Illumination and Universal Pictures present "The Grinch," based on Dr. Seuss' beloved holiday classic. The Grinch tells the story of a cynical grump who goes on a mission to steal Christmas, only to have his heart changed by a young girl's generous holiday spirit. Funny, heartwarming and visually stunning, it's a universal story about the spirit of Christmas and the indomitable power of optimism. (synopsis via Coming Soon)
Christmas may still be a little way off, and a long time off if you're The Grinch and steal it away, but the first of two songs by Tyler the Creator for the upcoming Illumination Entertainment festive animation release has found the tinsel-draped light of day.
Soon to be joined by an original tune "I am the Grinch", Tylor the Creator's riff on "You're a Mean One" is fresh, very 21st century take on the classic song which as Paste Magazine notes still sounds the track we know and love:
"First teased in the third official trailer for the film back in September, the track is a drastic reimagining of the original version written by Dr. Seuss, composed by Albert Hague and recorded by Thurl Ravenscroft for the original 1966 animated special. With Tyler working with Academy Award-nominated composer Danny Elfman, the duo launched the track into the 21st century. However, despite enlisting a chorus of children and leaning heavily on the bass end of the frequency spectrum, the track's classic drag is ever-present."
So the best of both worlds, much the film which I suspect may have all the modern bells and whistles, and a deliciously silly sense of humour but which will ultimately deliver a cost, heartwarming, life-affirming Christmas message.
Maybe you're not so bad after all, Mr Grinch …
The Grinch opens 9 November in UK and USA and 29 November in Australia.