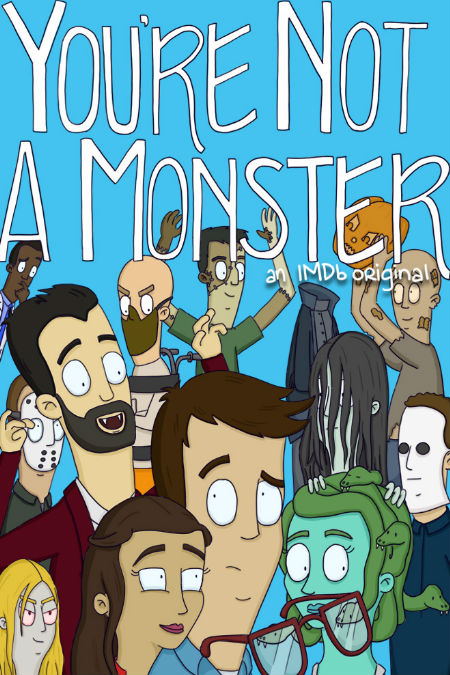 SNAPSHOT
Max Seward's patients really are the horrifying monsters they think they are … because they really are horrifying monsters. …features the voices of Kelsey Grammer, Eric Stonestreet, Aparna Nancherla, Ellie Kemper, Patton Oswalt, Adam Pally, Amy Sedaris, and more. (synopsis via Laughing Squid)
How does Medusa really feel about all those snakes slithering on her head? Do zombies feel bad about chomping down on the living? Can the exorcist's regan see any patterns in her projectile vomiting?
And is it weird have a vampiric grandfather, voiced by Kelsey Grammer as your undead grandfather?
These and many other questions that likely never occurred to you, but which thankfully crossed the mind of the people behind You're Not a Monster, a new animated adult mini-series premiering on IMDb.
If you didn't realise IMDb was joining the streaming game along with every other man, woman and auteur-minded four-legged creature, don't feel too bad.
It's the site's first-ever scripted series, with each of the episodes running to a nicely-timed four to five minutes and written and created by Emmy Award-winner Frank Lesser (The Colbert Report), and it looks like it will be a delightful addition to the burgeoning slate of animated shows available to people who realise that growing up doesn't mean leaving cartoons behind.
Especially not when they're as clever and witty as this one.
You're Not a Monster premieres this US fall.