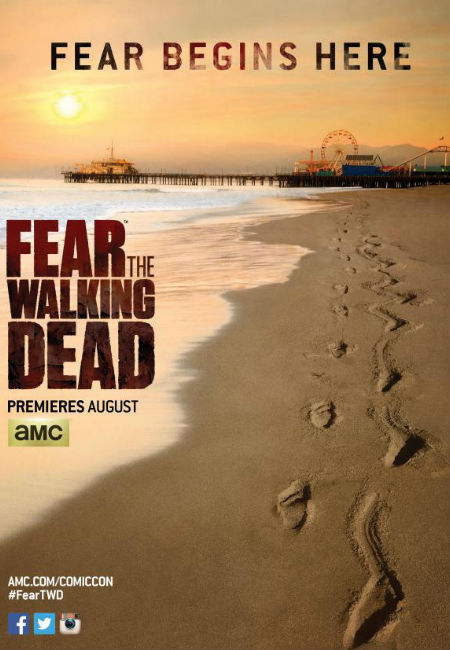 We are about to overrun by even more zombies than normal, people.
Not content with walkers/rotters rambling blighted streets in their hundreds – the opening episode of The Walking Dead season 6 will reportedly feature 654 zombies all doing their undead shuffling thing at once – we will now get to see how all those zombies came to be in Fear the Walking Dead.
Launching late this August on AMC and on FX in Australia, the show has a vibe that more closely resembles The Invasion of the Body Snatchers, where the generator of the fear is not much seen as unknown and unseen and quite possibly, lurking around every corner.
Perfect fodder for rampant, unbridled terror, potent enough as we know to bring down civilisation in a matter of a few world-ending days.
All that, and trying to survive with your family intact too in the now ferociously feral landscape of a disintegrating L.A..
It's a big ask but one that the show's first six episodes look like they will take a good stab at answering it if the newly-released Comic-Con (#SDCC) trailer is any guide …
While Robert Kirkman, creator of everything The Walking Dead, says we won't get to see exactly what caused the epidemic itself, the fact that we will see how it all began, in a chaotic frenzy of civilisation-wrecking horror, looks like being more than enough.
At least for now.
The official response on whether the two shows will ever overlap was also a form no at Hall H #SDCC, and while you could well make a case for them doing so, they look like they will well and truly stand alone as two separate shows, in tone and style.
The Walking Dead, of course, has well and truly got its "Good people doing bad things" schtick going down in finely gripping style, with the first full-length trailer for season 6 keeping the tension well and truly amped up as things in the Alexandria Safe Zone (ASZ) start heating up like a hot summer's day in Atlanta.
Along with the aforementioned 654 zombies, who can be glimpsed in the trailer in one long, street-clogging, terrifying mass – Michonne will really have her katane-swinging work cut out for her – quite a bit will be happening when the show returns in early October, hot on the heels of Fear the Walking Dead.
For a start Rick, looking to expand his Ricktatorship to an entire township, is going to come hard up against newly-arrived Morgan who, if you recall, wandered into the ASZ in the season 5 finale just as Rick was executing, with Deanna's permission, a murderously-unhinged Pete who had just killed off Deanna's husband Reg.
AAAK-WAAAARD.
If all that power-struggling and realpolitiking in a time of apocalypse isn't enough, a big new baddy is on the way in the form of the Wolves, whose true ferocity was glimpsed when Morgan rescued Aaron and Darryl from their bloodthirsty hands.
And then there's the ongoing existential dilemma of how do you solve a problem like vengeance-happy Rick, and are this happy band of survivors, many of whom have disquiet over their leader's gung-ho approach (Carol excepted naturally), edging far too close in practice, if not intent, to the people of Woodbury and Terminus?
Lots to think about, lots of action to take in, and many, MANY zombies to avoid.
You can read a great rundown of The Walking Dead team's appearance at #SDCC on io9.