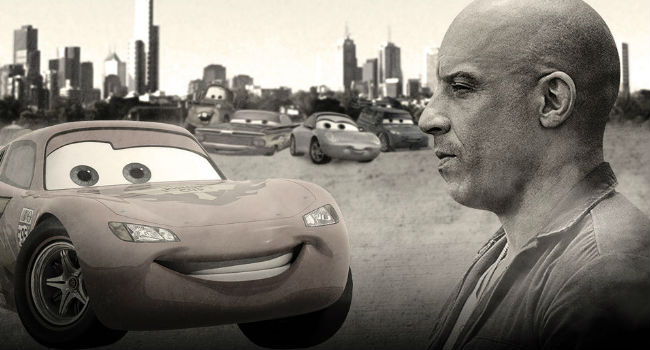 "The most important thing in life will always be the people right here, right now. That's what real."
Those touching words are lifted verbatim from Fast and Furious 7 (uttered by lead character Dominic Toretto played by Vin Diesel), the latest instalment in a franchise that seems to go from strength to strength.
And that is probably understating things considerably with Fast and Furious 7, essentially a high-speed memorial to Paul Walker who died during filming, set to become the fifth biggest film of all time, and number 8 already greenlit and being rushed to screens in 2017.
The only thing that could possibly make all this success even sweeter would be if some clever people, like say the creative souls at IGN, thought to mash-up Fast and Furious 7 with Pixar's Cars, two franchises that have more similarities and overlap that you might first realise.
The result is a far grittier, more full-on take on Cars, that marries up the two sets of movies in ways that will make sense once you see them, just as they made sense to the good folks at IGN, as Cinemablend notes:
"The folks over at IGN were some of those who saw Furious 7 in theaters and contributed to the film's massive success. But all the while they kept trying to think of where they had seen some of the stunts before. The answer, they soon found out, was in Cars. The explosions, the first scenes, the adrenaline-pumping chases, the cars racing out of airborne planes, they've all been featured in both franchises. And now we can enjoy them at the same time.

"In the Cars–Furious 7 mash-up, Mater becomes Dominic Toretto, though it's weird to hear Vin Diesel's Groot-tastic voice dribbling out from behind a pair of buckteeth. Elsewhere, we hear Paul Walker's voice emerge from Lightning McQueen, a nice tribute to the beloved franchise star. Finn McMissile from Cars 2 wasn't so lucky. He got the role of Deckard Shaw, Owen Shaw's fast and furious big brother, played by Jason Statham in Furious 7. Although, his ninja-esque maneuvers in the Pixar movie are more deserving of someone like Shaw."
Even if you're not a fan of either franchise or only one of the two, you'll find a lot to like in this brilliant mash-up, and may just find yourself racing down the road (at a legally-approved speed of course) Bassnectar's "Now" with images of Mater floorin' it zoomin' through your head …